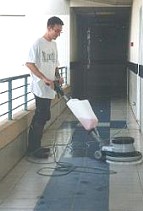 SLIDEX has been developed as a material for the inhibition or reduction of the danger of slipping on all types of mineral flooring. It consists of a combined product that gives rise to a coarsening of mineral crystals and building material on a totally environmentally neutral basis. The product is individually prepared according to the particular mineral characteristics of the floor concerned.

SLIDEX is not a coating or a screed; it is invisible and environmentally friendly. The process is carried out by authorized trained personnel. The non-slip material is suitable both for indoor and outdoor applications and also for surfaces that are dangerous when wet.
The principal users are swimming baths, hospitals, old people's homes, foodstuffs and beverage bottling businesses, hotels, kitchens etc.

SLIDEX has been scientifically tested by prominent institutions in many European countries and has received countless international references of satisfaction. One single expert treatment carries a guarantee for several years.